FAQ
Q1:I before never use this kind of machine,is it easy to learn?
A1:This nail printer is easy to operate and can be completed in just 4 steps and can be learned in 5 minutes.
A2; English manual and operation video will be offered, if you have any question , you can contact with us via whatapp, skype, or online service. So easy. Weclome to visit our company , our engineer will give you professional guidance .
Q2:What about the quality?
R2;Each item will be checked carefully before shipping, the inspecting goods by the third party is acceptable ,we have passed CE, ROHS,FCC...And we have after-sales service center in France Paris and china , ready to serve you, no timeless service.
Q3:Are you manufacturer , can we order nail printer with our brand logo ?
R3:Yes,we are professional manufacturer with 7 years factory experience , we can make your logo on machine if you need large quantity .
Q4:In addition to Alibaba, which payment methods do you support?
R4:Our payment methods are Alibaba, Western Union, T/T and paypal,moneygram,credit card .
Q5:How long can the photos keeps on hands?
R5:
1,Do a good nail can stay for at least one month.
2.About 5-10 days coated by nail polish.
3.About 10-20 days coated by nail gel .
4.The nails are too thin and the process is lack of standardization or protection will reduce the retention time.
Q6:Is it safe?
R6:The process of the painting is non-touching. The print nozzle and nails keep a certain distance about 3mm each other and the inkjet spray on the nails surface. So you won't feel any uncomfortable in the process.
We also supply nail surface protection sticker , it can protect your nail surface .
Q7:Can I get better price if I purchase a certain number of machines?
R7:Of course, our machines are sold according to quantity, which means that the more you buy, the price will be better .
Q8:How many times can an ink cartridge and nail polish be used?
R8:An ink cartridge can print at least a thousand nails, and a bottle of nail polish is used for 150 to 200 nails. Because each nail is not the same size, there will be differences.our nail polish is 10ML one bottle.
Q9: Is it healthy?
1. We use pure nail gels instead of nail polish. The nail gels are made of pure natural resin, which is harmless to the human body and environmentally friendly.
2.We will coat the basic base gel before painting,it is resin material. Even we promote use the nail sticker to stick the surface of the nail.
3.The inkjet Cartridge is like original printer Cartridge, products which meet the international safety standards.
4.Choosing the healthy basic and top quality polish is the key to insure the safety and healthy.
5.All of accessory have passed the MSDS.
Q10:Does your app have an English version?
R10:Yes,we have English version,if you need your local language, we will develop for your market and our app currently only supports Android .
Q11: Can it use images from a mobile phone? And i want to use my own picture.
A11:Of course.Our app can choose the pictures in your own album to print, you can print any picture what you like.
Q12:how long do the ink cartridges last? What should I do if I have used it?
A12:A cartridge can print 1000 times.If you used it, you can buy it again in our store. The ink cartridge price is 30usd , Base gel price is 2.5USD anti-overflow gel price is 1.5USD , print gel price is 4.5USD , top gel price is 2.5USD , gel remover price is 2USD .
Q13:Is there only one cartridge required for the machine and is it full colour?
A13:A machine only needs one toner cartridge, and one toner cartridge has three primary colors, which can be combined into many colors.
Q14:Can I have a sample order for nail printer?
A14:Yes, we welcome sample order to test and check quality. Not free.
Q15 : How many nail printer to be exclusive?
A15: You can contact with our sales manager to check.
Q16 : Could you send to me a free sample for me
A16 : Sure , but the sample is not free
Q17: Is the machine have CE ?
A17 : yes , we have passed CE, FCC, RoHS certification.
Q18: Which shipping way is available ?
A18 : There have DHL , Fedex , TNT and EMS express for you choose . DHL will take 5-6days on the way , Fedex is 5-7 days , TNT is 7-8days , EMS is 18days .
Q19: Is that a special ink cartridge or I can buy it later in Europe too?
A19 : It is a special water-based ink cartridge , when the ink is run out , you need buy new ink cartridge from us .

Q20: How to print the clearest picture?
A20 : We need to pay attention to the distance from the ink cartridge to the nail surface,the best distance from nail to Nozzle is 3 mm.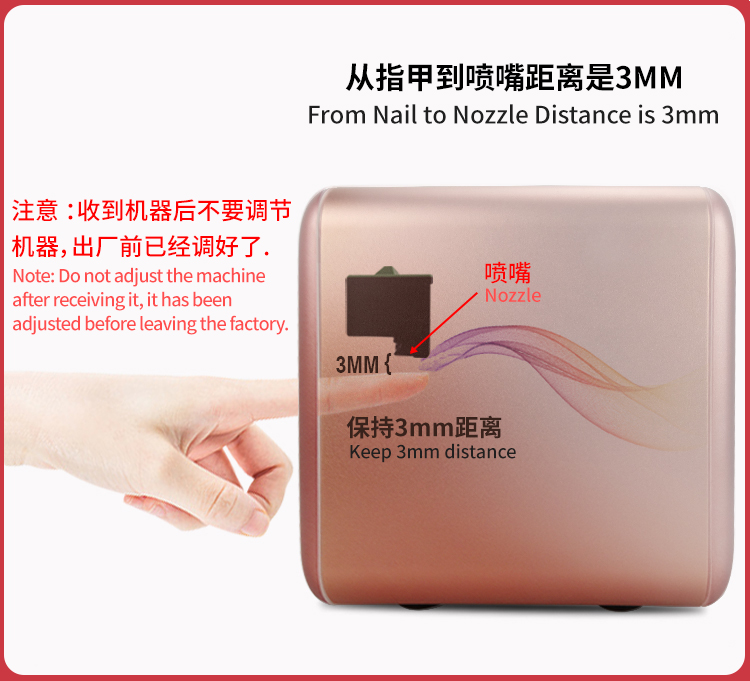 Q21: How to prevent ink cartridges from clogging and storing ink cartridges?
A21 : 1. We have a matching cartridge protection clip. Simply put the ink cartridge inside to prevent ink loss
2. The ink cartridge needs to be stored in a dry environment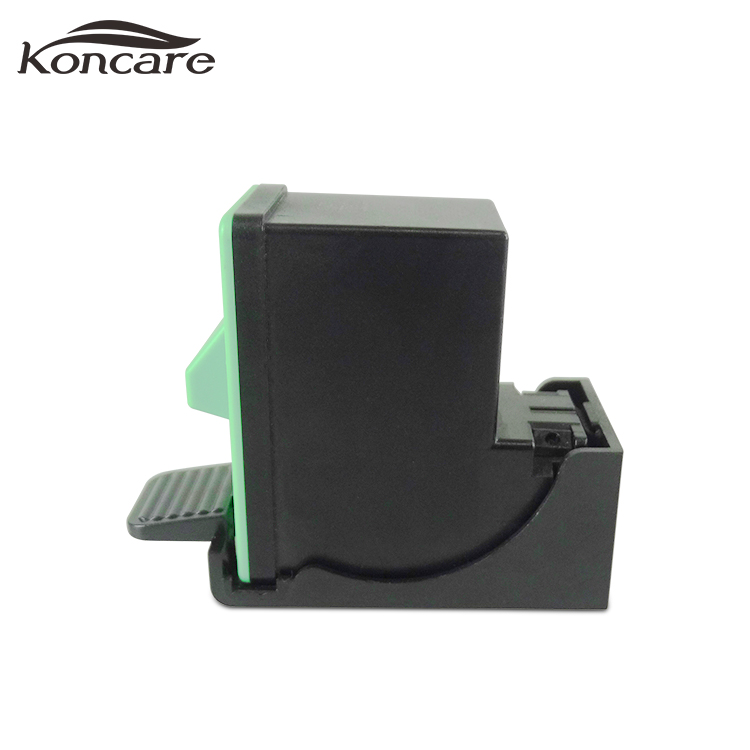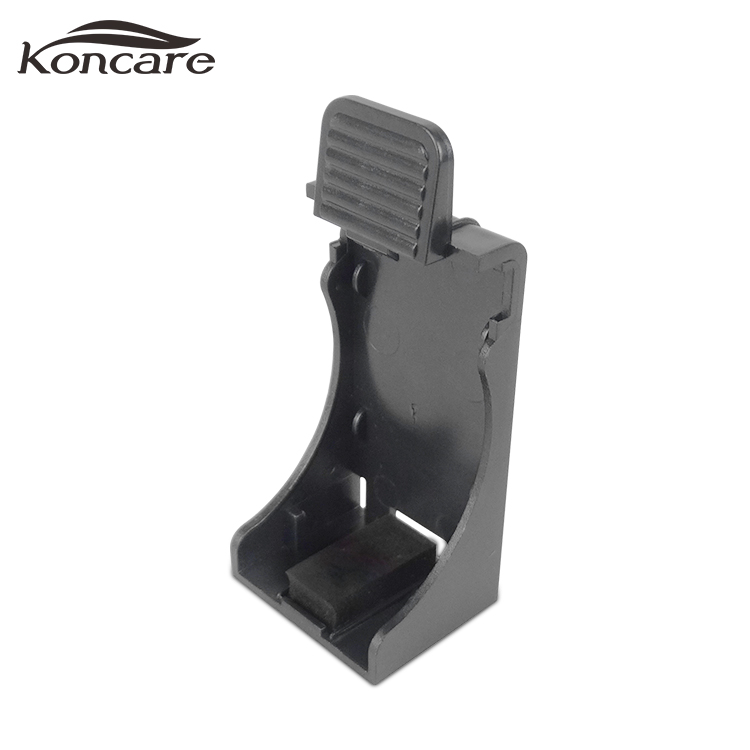 Q22: When the cartridge is clogged,how to solve it?
A22 : If the ink cartridge is clogged, we need to soak the nozzle of the ink cartridge in warm water at 55°C for about 90 seconds to 120 seconds, and then press the nozzle on the paper towel, it will appear three colors-yellow, red and blue.